John Healey MP has welcomed much needed improvements to a well-used footpath into Cortonwood retail park. It tops off the MP's two-year campaign to get the path upgraded.
The local MP worked to get the path properly surfaced with the Rights of Way team at Rotherham Council and St Pauls developments plc, the landowners at the retail park.
The path runs from Knollbeck Lane in Brampton into the retail park along the old pit entrance to the former Cortonwood Colliery site. This provides important access for workers and visitors getting to and from the retail park every day.
John Healey started this campaign after meeting workers in the Royal Mail contact centre on the Cortonwood site in October 2021. They raised their concerns about the safety and state of the footpath which many of them use this to get to work. He then took this up directly with the Rights of Way team at Rotherham Council and the landowner St Pauls, aiming to bring them together to agree  action to improve this footpath.
After organising meetings and site visits with council officers and the Managing Director of St Pauls, the landowners agreed to organise and cover the cost of a new surface along the section of the footpath that most needed this improvement. This new path was laid over just three days, made from crushed limestone to provide a stronger and more durable surface. And vegetation was cut back to open up the footpath further.
Rotherham Council supported this work and offered their technical advice to St Pauls to help ensure these works could be carried out smoothly without delay. They joined them to inspect the new surface last week.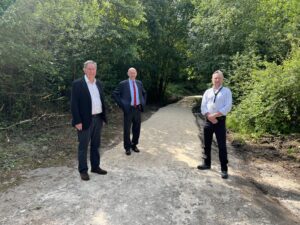 John Healey, MP for Brampton, welcomed these works and said:
"I'm really pleased to see a proper surface on this footpath into Cortonwood retail park. It was rough, muddy and dangerous underfoot before, so it's great to bring the landowners and Rotherham Council together to get this work done.
"This footpath is so well used by local residents who want to shop at the retail park and by staff who need to get into work. Every time we've done a site visit,  people stop to tell us how helpful an upgrade would be."
David Newton, Managing Director of St Pauls developments plc, has also commented on these works and said:
"We're really grateful to John Healey for bringing us together with Rotherham Council after raising local concerns over the condition of the footpath with us.
"We've very much enjoyed working together on this matter and I'm pleased to have been able to organise these improvements to get this better surface laid on the footpath. I hope this is helpful for all the residents who travel along this path when visiting and working at Cortonwood retail park."