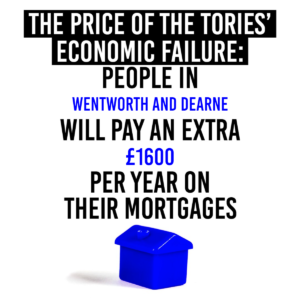 John Healey MP has revealed that the average local household is set to be put under more pressure than ever by the Conservative's mismanagement of the economy.
Latest figures show that mortgages are predicted to rise by £1,600 a year across the Wentworth and Dearne constituency with 9,900 families affected.
It follows the news that many mortgage deals are being withdrawn by Banks and interest rates being increased, with Moneyfacts data suggesting the typical rate on a two year fixed-rate loan had increased to almost 6%, almost double a year ago.
Wentworth and Dearne MP, John Healey, said: "The country is buckling under 13 years of Conservative mismanagement and a crashed economy, and it is families being asked to pay more on their mortgage once again.
"People are asking themselves whether they're better off under the Tories. The answer is no.
"The Tory mortgage penalty is devastating for family finances and is holding back our economy.
"Labour will bring financial and economic security back, so that families aren't constantly on a cliff edge, and so that we can urgently grow our economy."
The Resolution Foundation has estimated that 6.5m households will be affected by the post-mini budget rise in mortgage rates by 2026.
The latest forecasts of economic growth this year suggest that the UK is struggling to get out of the slow lane, with growth of just 0.2% forecast on the year.
Labour is calling on the government to bring in temporary measures to guarantee struggling mortgage borrowers can access support from their lenders. The measures would include:
Requiring lenders to allow borrowers to switch to interest only mortgage payments for a temporary period.
Requiring lenders to allow borrowers to lengthen the term of their mortgage period.
Requiring lenders to reverse any support measures when the borrower requests.
Require all lenders to make government repossession restrictions mandatory.
Instructing the FCA to urgently issue consumer guidance stating that borrowers making temporary switches to interest only mortgage payments and lengthening the term of their mortgage period shouldn't see their credit score affected.