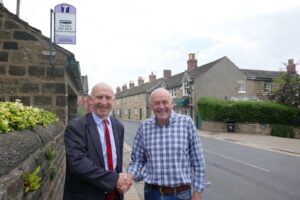 Wentworth village will have a full time bus timetable from this month (July) after MP John Healey led a successful community campaign to restore a daytime service between Monday to Saturday.
John Healey worked with the parish council, residents, bus company bosses and the South Yorkshire Mayor to get plans in place for a new route to link the village directly with Rotherham and Barnsley via Hoyland. Mayor Oliver Coppard has confirmed news of a new number 7 route which will run from 23 July and be introduced well ahead of wider bus network changes due in October.
"This shows what can be done when people pull together. We had a strong case to make but I had to open the doors to the people making the decisions, and Mayor Coppard's backing was vital ", said John Healey MP.
This campaign followed cuts last October which saw Wentworth left with just three buses a day and two in the evening from Monday to Saturday, after the previous 136 bus provided by First was withdrawn.
The new number 7 bus will run every hour in both directions between Monday to Saturday from early morning to early evening. This new service also restores a direct link in the village for residents between Barnsley and Rotherham town centres. Mayor Coppard has also confirmed the number 7 bus will come into force from 23 July 2023.
Mr Healey paid tribute to Wentworth Parish Council and said: "Members of the Parish Council work hard for the village and they know some people don't drive and totally depend on buses. They backed my campaign 100 per cent."
He also went on to thank South Yorkshire Mayor, Oliver Coppard, saying: "Oliver Coppard was great. He could see the village was cut off for those without cars and he pledged to help restore this vital bus link. He also went a step further by agreeing to my proposal for starting this new service in advance of the general network changes in October".
Councillor Brendan McNamara, Chair of Wentworth Parish Council, has also welcomed this news and said:
"As Wentworth Parish Council, we wrote to the Mayoral Authority earlier this year to highlight the problem we currently have with the lack of daytime service in Wentworth and the difficulty residents who rely on the buses were having in getting out and about, including local businesses and their employees.
"It was great to have the support of and to work alongside our MP in raising this problem and we're so pleased to get the restoration of a proper bus route running through the day in the village."
South Yorkshire's Mayor, Oliver Coppard, has also spoken on his announcement for the number 7 bus and said:
"Here in South Yorkshire, we have lost 15% of our bus services in the last year. On a daily basis I hear about the impact those cuts are having on our communities – on people's ability to get to jobs, medical appointments, college, or simply to see friends and family.
"We're doing what we can. When operators decide to cut a route, all we can do is pay them public money to keep those routes going. I'm pleased we have been able to reinstatement some vital routes, but let me be clear, our network is still at risk.
"We urgently need a partner in Government who will match our ambition for public transport in South Yorkshire, not manage its decline."
The timetable for the new number 7 bus can be found online on the Travel South Yorkshire website here.