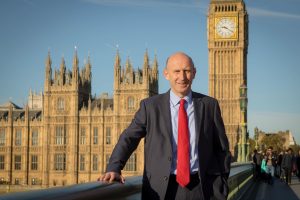 John Healey MP has written to both the Transport Secretary and the Managing Director of Northern Trains setting out his major concerns at plans to close local railway ticket offices. 
Earlier this month the Rail Delivery Group confirmed plans to move staff out of ticket offices at Swinton, Rotherham and Barnsley with the consultation on these significant changes to last just 21 days. 
In the letters John says: "The news is deeply worrying for elderly and disabled constituents who have been in touch with me to express their concerns about access to facilities, ability to obtain tickets and the withdrawal of face-to-face customer services.  
"It is also a major concern for the hundreds of thousands of people employed in our rail industry, the staff employed in my own constituency, and all those who rely on the support and advice provided by staff in ticket offices. 
"Given the fact that many of those passengers relying on ticket offices will be elderly and disabled rail users that may otherwise struggle to use digital alternatives, it is vital that you offer assurances that those rail users will still have access to the support they need to use our rail network with confidence." 
In relation to the serious concerns that residents have raised John has asked for answers to the following questions: 
What will happen to the rail staff currently deployed in rail ticket offices in my constituency?

 

What will the impact be on their job security?

 

What the impact of ticket office closures will be on the safety and accessibility of the rail network for disabled and elderly passengers?

 

When will digital and pay as you go ticketing technology be available across the whole of the rail network?

 
In his letter to the Transport Secretary John added: "Passengers across the Wentworth and Dearne area are already suffering due to the chaos on our railways. They should not have to face any further disruptions to their travel plans due to your poor management of our rail networks. 
"Under this Government, private operators have been allowed to profit whilst cancellations have reached record highs, basic services like Wi-Fi are at risk of being taken away, plans to bring forward legislation to reform services have been scrapped and now ticket offices are facing closures without thought for the vulnerable users that rely on them. 
"Our rail network is already failing passengers in my constituency and is in desperate need of reform. But the people of this country have lost confidence in your Government to deliver a rail network that works for passengers."