MP John Healey (Wentworth and Dearne) has dedicated a cross in Parliament's Remembrance Garden to decorated Swinton war hero Lance Corporal Thomas Norman Jackson VC.
Members of Parliament have been invited to place a cross in the new Constituency Garden of Remembrance located on the Parliamentary Estate. As Labour's Shadow Defence Secretary John Healey was with the Speaker and President of the Royal British Legion at the official opening of the Garden on Monday (8 November).
He planted his memorial cross for Thomas Jackson during this opening ceremony. The special Garden will remain in place until after Remembrance Sunday (14 November) this weekend.
Thomas was awarded the Victoria Cross honour for his bravery shown when charging against enemy defences in the Battle of the Canal du Nord in North Eastern France in the First World War. Thomas had volunteered to follow his Captain across the Canal du Nord in a rush against an enemy machine gun post and, the same day, Thomas was also the first to jump into German trenches which they had to clear of enemy soldiers. Sadly, Thomas was killed during these charges on 27 September 1918.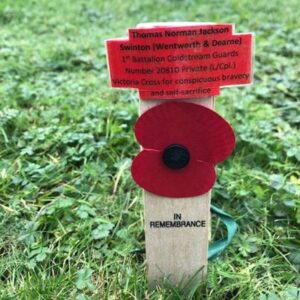 In planting his remembrance cross, John Healey MP has said:
"I'm proud to dedicate my cross to local hero Thomas Norman Jackson and pleased his bravery is marked in Parliament's Remembrance Garden. His was the British military's highest honour for the bravery in battle, and made the ultimate sacrifice.
"Remembrance has a special significance this year, as we can finally come together again across the country to parade, lay wreaths and honour those who've given their lives for the freedoms we all have today in Britain. We will remember them."
You can read more about Thomas Jackson on the Victoria Cross and George Cross Association website here.