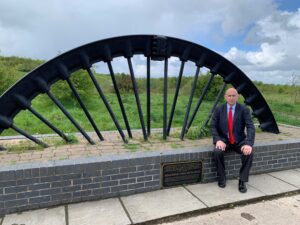 John has branded the Government's claim on levelling up a lie as he exposed how needy towns with great potential in South Yorkshire have been ignored and funding funnelled to better off areas.
John is investigating the way money said to be for 'levelling up' is being distributed.
He said: "My research shows that the Government's claim it wants to level up the country is a lie and a sham.
"Levelling up has to mean giving extra help and opportunities to people and areas that need them most.
"Ministers are not doing that and they won't explain why. Their murky decision-making does not add up or stand up to scrutiny."
The £3.6 billion Towns Fund was announced by the Prime Minister in July 2019 to support an initial 100 town deals across England.
At Budget 2021, the Chancellor announced 45 areas to get a combined £1 billion in funding.
John has questioned why a number of towns in his Wentworth & Dearne constituency were frozen out while less deprived towns were allocated millions of pounds in funding.
Towns Fund decision-making involved Government officials ranking 541 towns for need and growth potential. The eight ranked highest priority – including Goldthorpe and Rotherham, ranked first and second in Yorkshire and the Humber – were invited to bid for Towns Fund money.
But Ministers were allowed to use their discretion on selecting the other towns. Towns ranked 'low priority' and with less deprivation were chosen above others with greater need and growth potential.
Thurnscoe, Barnsley, Mexborough, Bolton-on-Dearne, Rawmarsh and Wath-upon-Dearne were all ranked higher than towns invited to bid, including Whitby, Shipley, Morley, Stocksbridge and Todmorden.
John's Wentworth & Dearne constituency – home to Thurnscoe, Bolton-on-Dearne, Rawmarsh and Wath – is the 85th most deprived constituency in the country while Stocksbridge is in the 340th , Morley the 305th, Shipley 294th, Todmorden 258th and Whitby 154th.
So far more than £130m has been allocated to towns that are less in need.
John has asked a series of Parliamentary Questions as part of investigations he is carrying out into the selection of lower priority towns over higher priority.
He also questioned why only 16 towns in Yorkshire and the Humber were selected to bid – when Government officials recommended 19 – while in both the South East and the South West, Ministers selected three more towns than officials recommended.
Luke Hall, Minister for Local Government, responded saying: "Ministers used their judgment and local knowledge to select those in the medium and lower priority groups.
"It was appropriate that Ministers made the selection rather than officials, due to the need for qualitative judgement and accountability for decision-making."
John said: "This response is totally unacceptable. It does not provide the answers people in the Dearne deserve."
Read coverage of this story: