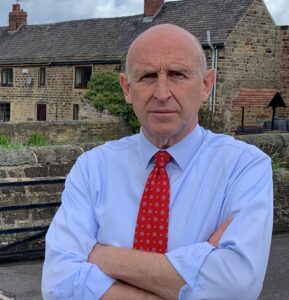 Local Labour representatives have again called on the government to lift the Planning blight still hanging over our communities – after the government's decision to scrap the scheme north of Birmingham yet again left the question of "safeguarded land" and planning blight unresolved.
Rotherham communities in areas like Bramley, Aston, Thurcroft and Wales Bar have faced the threat of HS2's Eastern Leg since 2016, with properties close to the proposed "M18 route" coming under "safeguarded land" restrictions. The status of the land is highlighted in property searches, meaning that anyone looking to buy property in the area can't be sure that the government won't ultimately seek to take it from them. Residents are therefore subject to planning blight of lower house values, as well as uncertainty about the government's own intentions.
It had been hoped that this would be lifted when the government announced the "M18 route" was no longer its preference in 2021, and again when the so-called Leeds Study of routes north of Sheffield was announced earlier this year, but neither came to pass.
Astonishingly, even now the government has scrapped the project north of Birmingham the restrictions remain in place, even though restrictions on the Western leg towards Manchester are expected to be lifted "in weeks".
Now in letters to ministers, Wentworth and Dearne MP John Healey, Council Leader Chris Read, and Rother Valley parliamentary candidate Jake Richards have urged the government to act quickly to bring the inexplicable threat to an end.
You can read my letter in full below:
Rotherham Council Leader, Cllr Chris Read says: "Communities like Bramley, Wales Bar and Aston are simply in the wrong place for any future routes between Sheffield and Leeds and it cannot be right that residents in those places are left in limbo."
And parliamentary candidate for Rother Valley Jake Richards says; "It is understood that restrictions on the Phase 2a route are to be lifted shortly, but restrictions on our route will be 'reviewed' by the summer of 2023. The cloud hanging over these residents must now be lifted. Clarity is desperately needed. There appears to be no good reason why the restrictions cannot be lifted sooner rather than later for families and residents in Rother Valley. The affected households need an expeditious resolution."