John Healey MP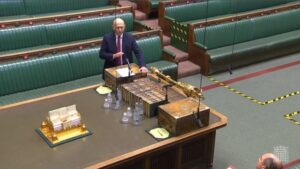 has called on the government to buy in Britain to support British industry, including steel.
As Shadow Secretary of State for Defence, he has repeatedly called for the government to spend and build in the UK to help support British jobs.
Speaking in the Commons, Mr Healey questioned the Secretary of State for Defence on the government's strategy to boost industry linked to defence, like steel.
He said: "Labour's determination to see British investment directed first to British industry is fundamental.
"When done well this strengthens our UK economy, and as Covid has exposed the risks of relying on foreign supply chains, it also has the potential to strengthen our UK sovereignty and our security.
"It's high time we put an end to a British government being just as happy buying abroad as building in Britain.
"We want to see a higher bar set for any decision to procure Britain's defence equipment from other countries."
It comes as Labour has called for Ministers to back British steelworkers by guaranteeing they want to see UK steel used in all government infrastructure projects.
Analysis by the Party shows that 24p in every pound spent on steel for government infrastructure projects went abroad in 2018/19, the last year figures are available.
UK Steel analysis shows that sourcing steel from domestic producers has demonstrable economic, social and environmental benefits.
In 2018/19, UK steelmakers missed out on a minimum £25 million worth of government funding for infrastructure projects with over 111,000 tonnes of steel imported for UK projects.
If government had prioritised UK steelmakers, the industry could have benefitted from a £25 million boost, creating and safeguarding 1110 jobs, boosting steel communities by contributing £100 million to the UK economy, and reducing carbon emissions by tens of thousands of tonnes on imported steel from the EU or China.
The Government's steel procurement pipeline shows that the government plans to use nearly 5 million tonnes of steel over the next decade in infrastructure projects including High Speed 2 (HS2), the construction of Hinkley Point C, the maintenance and upgrading of the UK's motorway network and the expansion in offshore wind generation.
Labour is calling on government to set targets for UK steel content for major public works with a guarantee to state a preference for the use of UK produced steel through the contracting process.
If the government put in place stronger Buy British steel guarantees it could equate to a boost to UK businesses, workers and communities of:
50,000 jobs safeguarded and created;
A £4.4 billion boost to the UK economy including steel businesses and the supply chain;
Reduction in carbon emissions from imported steel of between 750,000 tonnes (EU) and 2,800,000 tonnes (China)