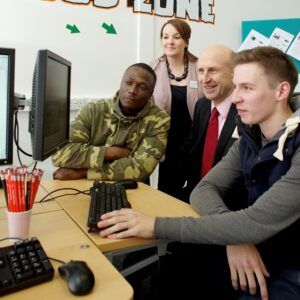 MP John Healey is calling for urgent Government action over the lack of Covid tests for students on apprenticeships.
Lateral flow tests are available for schools and colleges and a training provider in Rotherham says they should be treated equally.
Government guidance required 16-19 year-old students to return to in-person teaching from Monday 8 March, alongside the return of schools and colleges.
But Independent Training Providers (ITPs), who deliver thousands of apprenticeships and traineeships, have been told they will not receive Covid testing kits until the end of March at the earliest.
Mr Healey, MP for Wentworth & Dearne, is backing Labour calls for the Government to urgently provide ITPs with the support they need to provide Covid-safe learning environments for the young people they work with and staff
He said: "Vocational education is an after-thought for this Government, yet again.
"They are telling students and staff they're not as valued, they're not worth as much, as those in school and college.
"Ministers have had months during lockdown to get this right, and it is simply not good enough to say training providers have no access to testing until April at the earliest."
Chris MacCormac is chief executive of Morthyng, which was founded in Rotherham and has 485 learners from the most deprived areas of Yorkshire, the North West, East Midlands and West Midlands.
He said: "I'm worried for learners and staff, not just about the health and safety of not being deemed equal to schools and colleges but the parity and equality stance.
"The lack of flow tests is just one of many ways ITPs have been disregarded. We have been denied access to ICT to support learners at home isolating until a year after the start of the first lockdown. We've also had to self-fund PPE until very recently.
"ITPs have spent thousands of pounds on PPE and adaption to buildings and digital platforms for home tutoring since March 2020.
"ITPs deliver almost 80 per cent of the apprenticeship provision to employers in the UK and just like our colleagues in schools and some colleges, we've undertaken digital lessons and many have remained open for face-to-face teaching of children of key workers, those who are vulnerable and those with special needs."