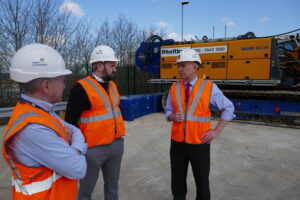 John Healey has called on the Chancellor to rethink his policy on red diesel and help local metal recycling companies ahead of the Spring Statement this week.
The Government plans to remove their entitlement to use red diesel which will significantly add to the costs of businesses like Ron Hull Jnr Ltd in Parkgate and Bauer Equipment in Wath.
Ron Hull Jnr warned the plans would cost them over £100,000 a year and they would have to cut jobs if the Government press ahead with a switch – this was before the rise in energy costs.
In the letter to Rishi Sunak Mr Healey said: "Ron Hull is Rotherham-based and a big local employer – currently with 120 employees. The firm fully support the Government's drive to improve air quality but simply have no alternative but to use their 70 diesel-driven machines, which at present they run under the long-established industrial red diesel scheme without the full fuel duty that road-users pay.
"Even before the recent big rise in fuel costs as a result of Russia's invasion of Ukraine, this was set to cost them an extra £100,000 – £200,000 a year, leaving them no choice but to cut jobs and pass on the cost increase to customers, which include UK steel companies.
"The company have already taken significant steps to green their business, for example by generating their own electricity through solar panels and heating by using waste timber, harvesting rainwater for dust and smell suppression and using boreholes, not mains, water for production. There are no electric or hybrid alternatives for almost all of their site vehicles and in other cases making the switch this year is not practical.
"Ron Hull recognise the need for businesses to play their part as Britain becomes a zero-carbon economy, but this comes alongside Ofgem's Targeted Charging Review and energy price hikes significantly increasing electricity costs for businesses.
"Ron Hull are not alone in facing these punishing pressures from the Government's policy. The BMRA estimates that switching to white diesel will cost scrap metal companies between £70,000 and £220,000 a year each and could lead to thousands of jobs being lost. The wider metals recycling industry comprises an estimated 2,500 businesses and employs around 10,000 people.
"Ahead of your Spring budget on 23 March, I urge you to rethink and give the waste sector more time to plan for any changes and to develop alternatives to diesel-driven machines."
John has also called for a government representative to meet and talk to him and Ron Hull Jnr Ltd about the issues.
The policy is due to take effect from April 2022.