John Healey MP has said that Labour is on the side of small businesses and supporting our high streets, while setting out Labour's policies during the tenth anniversary of Small Business Saturday.
John visited four local small businesses:
Tranquillity Beauty Salon in Wath-upon-Dearne
An established beauty salon
Corrosion Resistant Materials – Swinton
A specialist, technical material supplier which recently won the Queens Award for Enterprise in International Trade and employs 11 staff and 4 apprentices
The Classy Cloth Boutique in Wath-upon-Dearne
A new self-run business on Wath High Street selling clothes
King Cod Fish Bar in Sunnyside
An established fish bar employing 11 staff
During the visits he discussed the difficulties faced by small businesses with business rates, a crashed economy, soaring energy costs and supply chain issues, and how the likes of fish and chip shops, clothes shops, beauty salons and other small businesses are crucial to the local community and high streets across the borough.
John said: "I'm delighted to support this tenth anniversary of Small Business Saturday. Small businesses do so much to enrich our lives and our community, providing jobs, training and driving economic growth.
"I know that local businesses have faced massive adversity over the last few years and now face further challenges like unfair business rates, supply chain issues and soaring energy costs.
"Local businesses like those across the borough want a reliable partner in government that will listen to their concerns and take real, practical steps to help them thrive. Labour has a plan that will make a real difference for business owners looking to get on, both immediately and in the  long-term."
According to the Federation of Small Businesses, SMEs make up 99% of the business population in the UK and create 16 million jobs. Now in its tenth year, Small Business Saturday celebrates this success and encourages consumers to 'shop local' and to support businesses in their communities.
Labour has recognised the support that small businesses need not only to survive but to thrive. This is why the party has pledged to cut and eventually entirely scrap business rates, replacing them with a new form of business taxation fit for the 21st Century.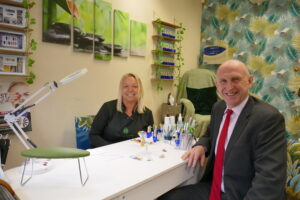 John Healey said that Labour will make online giants pay their fair share and introduce annual revaluations of business rates, with savings passed on immediately to small businesses. This would support small businesses rebuilding from the crashed economy, and level the playing field between online giants and bricks and mortar businesses.
Support for the self-employed was also highlighted by John as a crucial part of Labour's pro-worker, pro-business agenda. Labour will extend the protections for self-employed workers including the right to sick pay.