John Healey made a special visit to Ravenfield Primary School recently.
The Wentworth and Dearne MP announced the winner of his Christmas Card Competition for 2022 at a special assembly.
The winner and 9 runners up, all aged between 4 and 10, were presented with gifts and a copy of the winning card for their family.
John said: "It was fantastic to be at Ravenfield Primary School to announce the winner of this year's Christmas Card Competition.
"There were some fantastic entries for all year groups across the school and it was very hard to pick a winner.
"But I'm really pleased that Finley-Oscar Bramham produced such a lovely painting of a reindeer that I'll be able to send out to over 800 people across the area this year."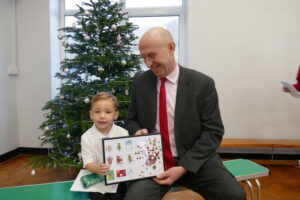 Principal Caroline Coates said: "The children really enjoyed taking part in the competition and produced some brilliant designs.
"We are on the build up to Christmas now and the competition has got us all in the mood for the big day. Well done to everyone that took part and especially well done to Finley-Oscar on his winning design."
You can watch John's film below from his visit and special assembly at Ravenfield Primary School.