John Healey has encouraged local residents in Rotherham and Barnsley to pay tribute to the service and sacrifice of UK Armed Forces this Remembrance Sunday.
This week, communities across the country will come together to pay tribute to those who fought and died in the First World War and all conflicts since.
Today, the UK's servicemen and servicewomen continue to play a central role to protect British interests and values, from training Ukrainian troops to supporting NATO allies in Estonia.
The Shadow Defence Secretary has been helping to put up lamppost poppies in in Rawmarsh and Ravenfield and has been out selling poppies with the Royal British Legion in Wath.
John Healey said: "Remembrance is a time when the nation comes together to honour all those who have served in our Armed Forces, present and past.
"We honour and remember the sacrifices made by service men and service women, veterans and their families across Rotherham and Barnsley.
"This year service personnel have played a leading role in the UK's united support for Ukraine, coordinating supplies, training troops and supporting our NATO allies.
"Above all we remember those we've lost in conflict through the years, who have made the ultimate sacrifice to keep Britain safe. We will remember them."
John also laid a cross for the Wentworth and Dearne area in the Constituency Garden of Remembrance at the Palace of Westminster this week.
John said: "I dedicated our cross in remembrance to the West Riding Royal Horse Artillery where their Battery HQ was based at Wentworth Woodhouse from 1908-1916.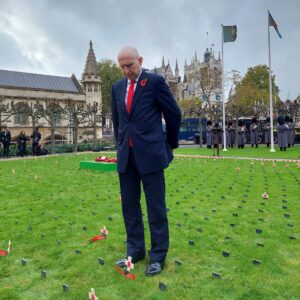 "I was also very proud to give a reading during the official opening ceremony in my capacity as Shadow Secretary of State for Defence."
Following the launch of its national poppy appeal, the Royal British Legion (RBL) are back in local communities across the country to raise vital funds to support our armed forces communities.
John is backing the charity's efforts to encourage schools across the country to support the teaching of remembrance, to ensure its importance is passed on to the next generation.
He's written to all primary schools across the Wentworth and Dearne constituency encouraging them to use a range of free teaching resources which have been created by the charity to use in local schools or at home, with all of the lesson plans linked to the national curriculum for key stages 1-5.
You can find the resources online here Teaching Remembrance | Learning Resources | Royal British Legion