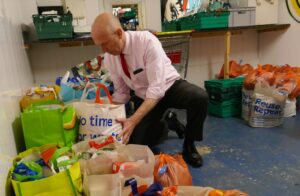 John Healey says latest figures showing food bank usage has risen by 42% across Rotherham in the last year shows the real impact of the cost of living crisis.
While helping out with deliveries at Montgomery Hall Food Bank in Wath, John said the true impact of rising costs and household bills was "clear to see".
The Trussell Trust's end of year statistics show that 3,830 food parcels were handed out at its food banks in Rotherham between 1 April 2021 and 31 March 2022 compared to 2,693 during the same period in 2020/21.
That's an extra 1,137 people collecting food parcels in Rotherham over the past 12 months.
John said: "Britain shouldn't be a country where millions of people are struggling to get by on a day to day basis.
"These figures are devastating and reveal the level of hunger for children and families because of the cost of living crisis.
"Decisions made in Downing Street, such as cuts to Universal Credit, lack of help to deal with rocketing energy bills, punishing tax rises and real terms pensions cuts are pushing more and more working people and pensioners into food bank queues."
Other local food banks are telling the same story including Montgomery Hall, where John has volunteered through the COVID-19 pandemic. Organisers there also say numbers have gone through the roof.
Lynn Cadman, who runs the Food Bank, says: "The Wath Food Bank has seen an increase in the number of people coming to us for support, however, donations are falling, which is making it difficult to put our food parcels together.
"People are having to cut back their own budgets due to the rise in cost of living and, unfortunately, that means they don't have the spare income they used to have to be able to donate items."
Latest information from The Food Foundation has also shown a rapid 57% jump nationally in the proportion of households cutting back on food or missing meals altogether in just three months.
In April, 7.3 million adults live in households that said they had gone without food or could not physically get it in the past month, which include 2.6 million children. This is compared with 4.7 million adults in January.
John added: "It's clear the Government's lack of help is causing hardship across Rotherham and the rest of the country.
"The food budget is often the first thing to be cut when money's tight. People rightly expect the Government to do more, and they need help now with the spiralling cost of basics. Instead, the Tories are standing back while people struggle to make ends meet. Labour has a fully costed, practical plan that could help everyone."
Labour's Five Calls:
Put a windfall tax on oil and gas producers to cut home energy bills: Bring in a one-off windfall tax on oil and gas producer profits, to cut household bills by up to £600, including through a VAT cut on home energy bills and an increase and expansion of the Warm Homes Discount.
Provide support for struggling businesses: Labour would cut taxes for businesses by giving SMEs a discount on their business rates bill worth up to £5,700 this year, funded by a tax on the online giants. We'd also bring in a £600 million contingency fund, raised by the windfall tax on oil and gas producer profits, for those industries and businesses struggling the most with rising bills like steel and other energy-intensive firms.
Spike the hike: Scrap the National Insurance hike which this government has introduced in the midst of a cost-of-living crisis.
Insulate homes: Commit to a rapid ramp up of home upgrades with a clear target to meet by the end of the year, to make them more energy efficient and cheaper to heat, saving households £400 on average every year.
Stop the waste: Allow the National Crime Agency to investigate the £11.8 billion of taxpayer funds lost to fraud and error, so no more taxpayer money is flushed down the drain.