MP John Healey and local Labour councillors have pledged to help patients halt the closure of Wickersley Health Centre.
They've launched a petition urging the GPs to think again and level with people over the reasons behind the plan. Without the Wickersley surgery, patients will have to travel to Clifton for tests, prescriptions or nurse appointments and GP appointments.
The campaign comes after patients contacted John Healey with the concerns about having to travel into Rotherham to see their GP. This petition responds to a consultation launched by Clifton Medical Centre on the future of their Wickersley surgery. The consultation makes clear this has been launched to help them decide whether to apply for the closure of the Wickersley surgery.
You can sign and support Labour's petition below.
Keep Wickersley Health Centre Open
MP John Healey and local Labour councillors have launched a petition to keep Wickersley Health Centre open. This petition responds to a consultation launched by Clifton Medical Centre on the future of the Wickersley surgery. Should Clifton Medical Centre close its Wickersley branch? The respondents below say no!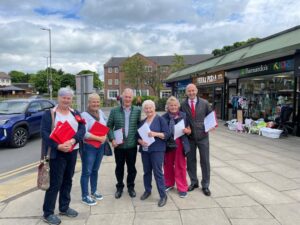 John Healey MP and Councillor Sue Ellis were out in Wickersley centre on Saturday morning talking to residents about this consultation and encouraging those affected to have their say. One hundred people signed the petition against the closure in just one morning supporting the calls for the Wickersley Health Centre to be kept open.
John Healey MP has said: "Everyone has trouble getting to see their GP and it's clear that no one wants to see this surgery close. Patients from a much wider area that Wickersley have been registered for years with GPs in the Health Centre and many will find it much harder to get to Clifton. And other GPs in the area are already full, so it won't be easy for patients to find another GP. The uncertainty is very worrying and I hope the GPs will use this consultation to rethink their plans.
"This is why alongside local councillors in Wickersley, we've launched our petition making clear we want to see our local Wickersley surgery kept open.
"I would urge patients and relatives to make their views clear in the consultation or sign up to our petition to stop any possible closure of this Wickersley surgery."
Councillor Sue Ellis – Labour councillor for Wickersley North – has reacted to the consultation and said: "I'm very concerned with this consultation and the review over the future of our local Wickersley surgery. I know residents will find it very difficult to travel into Clifton to attend appointments that they can currently attend here in Wickersley.
"This review is causing a lot of uncertainty for patients and I would urge Clifton Medical Centre to rethink their plans for our Wickersley surgery and keep it open."
The consultation was opened by Clifton Medical Centre on Monday 4 April 2022 and will close on Friday 24 June 2022. You can take part in their consultation online here.