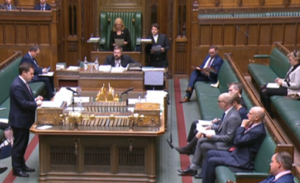 John Healey has written to the Immigration Minister asking him to end the Home Office's contract with the Holiday Inn Express at Manvers for housing asylum seekers as one of the 50 hotels the Government plans to 'exit'.
The Wentworth and Dearne MP was in the House of Commons for the Minister's statement today (24th October) but in his letter John says:
"…important information was not contained in your Commons statement, so I would be grateful if you could provide the following answers:
how decisions on which hotels are to be stood down will be taken? And who will make the decisions?
what criteria are being used to determine the priorities for ending hotel asylum contracts?
when we can expect the use of all hotels for asylum hotels to end, as the Prime Minister promised people a year ago?
John added: "Our Manvers hotel has been used by the Home Office as an asylum hotel for over 18 months now, despite repeated objections from Rotherham Council, local residents and me as their local MP.
"The hotel and the Manvers area are totally unsuited to house asylum seekers and I wrote again last month to the Home Secretary asking for clarification on whether or not the contract would be extended beyond October 2023. As I have still not had a reply, I am writing today to ask you to release our Manvers hotel in line with the previous commitments I've been given by Ministers that its use as an asylum hotel would be a on a "temporary basis".
"I am also set to meet with the owners of the hotel next week to make clear to them that I remain determined to see the hotel back open operating as a hotel."