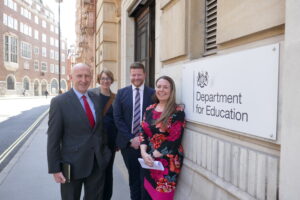 John Healey MP and local head teachers took the Schools Minister to task over the mental health problems affecting schools across the borough.
The Wentworth and Dearne MP arranged the meeting in Westminster so the Minister could hear directly from local head teachers about the need for greater Government support to help schools deal with the mounting mental health concerns they have to handle on a daily basis.
It followed the MP's recent mental health survey in which all secondary schools and a majority of primary schools said there had been a rise in anxiety reported mental health problems for both students and staff since the MPs previous survey in 2018.
John Healey said: "This was a great opportunity for our Rotherham head teachers to take their concerns to the heart of government and explain to the Schools Minster the scale of the problems they are having to deal with on a daily basis.
"They described how schools are having to adapt to deal with additional needs and often feel like they're papering over cracks in a system that is struggling to meet the demand.
"Five years after my original Schools Mental Health Report, school leaders still don't feel like they have the expertise, funding or time to deal with the day-to-day issues they face to support both students and staff.
"The Minister listened to the concerns and the complexity of the issues and it's clear more needs to be done. But the Government needs to step up its action and provide that extra help – including making sure there's specialist mental health support in every school."
Wath Academy's Liam Ransome was one of the head teachers that attended the meeting and said: "This was a fantastic opportunity to discuss what is a vital issue in our schools directly with the Schools Minister.
"During the meeting we were able to give examples of the daily problems that we experience and put across the concerns that teachers all over the country are facing when dealing with rising mental health issues in our classrooms."
Jude Gray, head teacher at Wath Central Primary, also attended the meeting. She said: "The rise in mental health and complex needs across schools is putting added pressure on all systems and services, both within school and externally.
"It was important for us to pass on the real-life issues that we face day in, day out to those in power so they can understand the pressures of what schools are having to deal with."