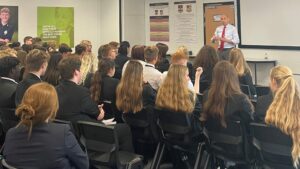 This week is Mental Health Awareness Week and John Healey has announced he's set to take local headteachers to Westminster to meet the Schools Minister over the anxiety epidemic facing schools.
The MP will take the heads of Wath Academy and Wath Central Primary along with the James Montgomery Trust's Strategic Inclusion Lead later this month.
They'll press for greater government support to help schools deal with the mounting mental health concerns they have to handle on a daily basis.
It follows a survey of schools by John across the Wentworth and Dearne constituency in which all secondary schools and a majority of primary schools said there had been a rise in anxiety reported mental health problems for both students and staff since 2018.
The latest report follows on from John's original Schools Mental Health Report which was carried out in 2018 and called for more action to combat the mental health crisis in schools.
John said: "This is a chance for our Rotherham headteachers to take their concerns to the heart of government and explain to the Schools Minster the scale of the problems they have to deal with every day.
"Five years after my original Schools Mental Health Report, school leaders still don't feel like they have the expertise, funding or time to deal with the day-to-day issues they face to support both students and staff.
"Together we'll tackle the Minister on providing the extra help that's needed including making sure there's specialist mental health support in every school."
The next Labour government will prioritise a truly preventative plan for mental health services and will put patient care first. Labour will ensure access to mental health professionals in every school and put an open access hub in every community, funded by closing tax loopholes.
This is in addition to guaranteeing mental health treatment within a month for all who need it by recruiting 8,500 new mental health staff to treat a million additional patients a year by Labour's first term in office.