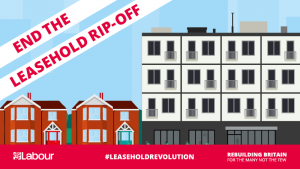 MP John Healey says Labour will end the leasehold scandal, which has led to unexpected bills for Dearne home buyers.
This week Mr Healey, MP for Wentworth & Dearne and Labour's shadow housing secretary, set out plans to cap unfair costs such as ground rents, investigate mis-selling and save local leaseholders thousands of pounds.
Leasehold ownership means purchasing a home for the duration of a long lease rather than owning it outright. Homeowners who purchase a leasehold property are often faced with extortionate charges in the form of 'ground rents' or service charges and locked into restrictive contracts which were not properly explained.
New figures show an estimated 134 homes (8.7%) in the Wentworth & Dearne constituency were sold as leasehold in 2018.
Mr Healey said he has been contacted by angry leaseholders in Goldthorpe, Bolton-upon-Dearne, Manvers and Brampton.
They have complained about leaseholds being sold on to hard-to-reach companies, that they faced big hikes in service charges and management fees and that their solicitors did not properly explain what buying a leasehold meant.
The MP said: "Leasehold is a symbol of our broken housing system, with millions of England's homeowners feeling like they've bought their home but still don't own it.
"The scale of the problems faced by leaseholders, from rip-off ground rents, punitive fees and onerous contract conditions stating what they can and can't do to their homes, demands wholesale change."
Notes
John is proposing that the next Labour Government will:
1. End the sale of new private leasehold houses with direct effect and the sale of private leasehold flats by the end of our first term in Government.
2. End ground rents for new leasehold homes, and cap ground rents for existing leaseholders at 0.1% of the property value, up to a maximum of £250 a year.
3. Set a simple formula for leaseholders to buy the freehold to their home, or commonhold in the case of a flat, capped at 1% of the property value.
4. Crack down on unfair fees and contract terms by publishing a reference list of reasonable charges, requiring transparency on service charges and giving leaseholders a right to challenge rip-off fees and conditions or poor performance from service companies.
5. Give residents greater powers over the management of their homes, with new rights for flat-owners to form residents associations and by simplifying the Right to Manage.