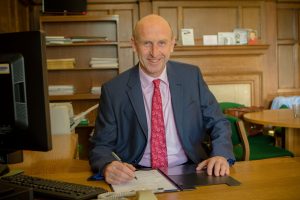 John Healey is one of 20 Labour coalfield MPs calling for the Government to make sure industrial diseases are considered if an ex-miner dies of suspected COVID-19.
Years of coal dust inhalation have left former miners with scarred and damaged lungs, making them incredibly vulnerable to coronavirus.
Right now, legislation on the completion of death certificates has been relaxed. Former miners are fearful that this may prevent the referral of cases where industrial disease may have been a contributing factor in their death. If underlying industrial diseases are not recorded on death certificates, it will be impossible for grieving families to claim compensation, robbing them of their ability to get justice.
Coal workers' pneumoconiosis, a result of coal dust inhalation, has caused an average of 130 deaths per year over the last decade. This statistic only accounts for the number of cases that have been assessed as meeting the criteria for having the industrial disease. It does not reveal the number of former miners who were turned away because they did not meet the requirements or those who did not make a claim while still alive. Misdiagnoses and inaccuracies on death certificates have caused untold suffering for miners and their dependents.
The letter, signed by MPs representing former mining towns and villages across the country, was sent to the Secretary of State for Health and Social Care.
The Labour MPs joined the Chair of the APPG on Coalfield Communities, Connor McGinn MP, and NUM General Secretary, Chris Kitchen, in calling for more support for miners, more research into industrial diseases and their role in increasing susceptibility to COVID-19 and measures to ensure industrial diseases are considered in the event of an untimely death.
John Healey MP said:
"Many miners have suffered lung disease as a result of their time down the pit. Under current guidelines grieving families, who are already facing real hardship, will be robbed of their chance to claim compensation. This injustice needs urgent attention."