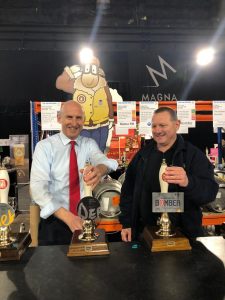 MP John Healey has backed calls to bring in a preferential duty for draught beer, to help save pubs.
The proposal has been put forward by CAMRA (the Campaign for Real Ale) ahead of the Budget on Wednesday (March 11).
The change would mean beer sold on tap would be taxed at a lower rate to that sold in supermarkets, encouraging people to enjoy a pint in the pub's community setting.
Mr Healey is a member of CAMRA and was the country's first pubs minister, appointed in 2010.
He said: "Brewing and pubs are a vital part of the UK economy, on which nearly a million jobs depend, including thousands in South Yorkshire.
"CAMRA's proposal would see a lower rate of tax for beer sold on tap, which would be a real boost for pubs.
"In many places the pub is the centre for social, recreational and charitable activity. For many people the local pub is one of the things that helps define the place where they live."
CAMRA say pub-goers would see a cut in the cost of a pint and the Government would be encouraging more responsible alcohol consumption. Due to beer duty and business rates, one third of the cost of a pub pint is now made up of tax.
The preferential rate is already in operation in Australia.
The beer and pub sector contributes £22.9 billion to the UK economy each year – including £62m in Rotherham and £48m in Barnsley.
It supports nearly 900,000 jobs, including 2,562 in Barnsley and 3,539 in Rotherham.
CAMRA says that a 5 per cent cut in draught beer duty would mean £26.6m more spent on draught beer and 966 more jobs. The cost to Government would be £76m, compared to the £85m cost of freezing alcohol duties in 2016.