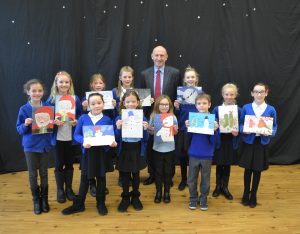 John has announced the winner of his annual Christmas card competition.
Every year his card – which is sent to hundreds of people – is designed by local schoolchildren. This Christmas it is the turn of Bramley Sunnyside Junior School.
Mr Healey presented gifts to the winner and 10 runners up – pupils aged from seven to 10 – during a special assembly.
He said: "As always, the standard of entries from the children was high and choosing a winner was very difficult. I want to thank them all for taking part and for welcoming me to their school on Friday."
The winning design is a smiling snowman designed by seven-year-old Maddie Reeder.
The runners-up were:
Tilly Scanlon, age 9
Lucy Organ, age 8
Maddison Palmer, age 8
Grace Betts, age 8
Ruby Locking, age 10
Layton Johnson, age 7
Hollie McClare, age 9
Maddison Hair, age 11
Isabelle Hair, age 8
Ellie Horner, age 10