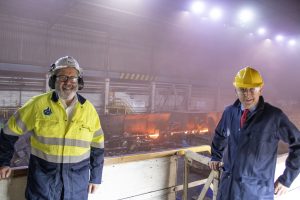 Liberty Steel UK today welcomed Shadow Business Secretary Ed Miliband MP and Shadow Defence Secretary John Healey MP to the company's Rotherham mill to see how Liberty's new GREENSTEEL infrastructure products can take a prominent role in Britain's 'build back better' programme.
Mr Miliband's and Mr Healey's tour focused on the site's electric arc furnace and downstream rolling mill, which this week started producing reinforcing bar, branded 'Grebar' based on its green credentials used to support concrete structures in major construction and infrastructure projects across the UK.
Major infrastructure projects such as the HS2 rail project alongside future demand from upgrades and replacement of existing transport networks will provide significant opportunities for Liberty's sustainably-produced Grebar.
Liberty Steel's entry into the reinforcing market – worth £500 million annually – will help reduce the UK's reliance on imports, which currently meet half of the country's requirements.
Ed Miliband MP said: "We owe it to people to both save businesses and jobs in this crisis and build back better after it. This must mean putting UK manufacturers and their workers at the heart of the country's recovery from the pandemic, including with jobs in the green economy.
"Steel can be at the heart of a green future for our county. But to make this happen we need an industrial strategy which helps our manufacturers, including with procurement contracts that take
account of environmental standards and support jobs in areas that need them."
John Healey MP said: "We produce some of the best steel in the world here in South Yorkshire. At Thrybergh, Liberty is showing how UK steelmakers can help boost British exports, cut our reliance on imports and lead the way in cutting carbon emissions. This is a win-win-win that Government Ministers must back more strongly."
Jon Ferriman, managing director Liberty Steel UK said: "We are delighted Mr Miliband and Mr Healey were able to see the high-quality steel products their constituents play a crucial part in making.
"Liberty's new GREENSTEEL Grebar product can be instrumental in infrastructure projects such as HS2 that will enable the UK to 'build back better' from the pandemic.
"To deliver a new generation of green jobs it is critical that the Government commits to a targeted procurement strategy that increases local content and backs British foundation industries such as
steel."
Rebar will add to Liberty Steel Group's range of speciality steel products in South Yorkshire, which are used for demanding applications in the oil & gas, aerospace and power generation sectors.
The group employs 1,800 people in the South Yorkshire area, with sites at Rotherham, Stocksbridge, Thrybergh and Brinsworth.