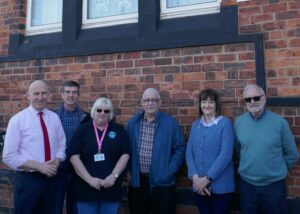 John Healey MP has helped a Rawmarsh community centre after it faced a hefty gas bill which could have forced it to close.
The Drop-In Centre's bill went up from around £11 a day to £80 a day over a two month period.
John raised concerns over the sharp increase with the energy provider who has now agreed to reduce both the tariff and daily standing charge for the centre as well as offering a £2,000 good will payment.
John said: "With the soaring cost of living crisis still ongoing the Drop-In Centre were really shocked when they received the bill and were worried that the rise in energy prices would force them to close.
"I'm pleased that their energy provider has listened and put this error right, but I am concerned that other charities or not for profit organisations may be in a similar situation now or in the future.
"These are organisations and groups that play a vital role in the community providing spaces for people to meet and hold a wide variety of activities."
Drop-In Centre Trustee Brian Wall said: "We'd like to thank John for helping us through what has been a worrying time for the centre.
"We couldn't believe it when the bill came through and we were seriously considering how the centre could keep open with bills as high as this.
"The group is pleased that the situation has been resolved and we'd encourage any other groups in a similar situation to make sure they question any rises in their bills too."
The Drop-In Centre is based on Harding Avenue in Rawmarsh and is the base of Social Eyes, a day provision for adults with mild to moderate learning disabilities and Autism, the S62 Mental Health groups and other local classes and not for profit organisations.