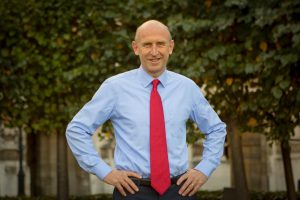 MP John Healey has called for Rotherham Council to reconsider its decision to close cemeteries in response to the Coronavirus outbreak.
He has had reports from residents saying they have been upset by the move.
There is confusion around government guidance but it does not say cemeteries should close – just funerals, crematoria and graveyards linked to a crematorium.
Cemeteries are closed in Rotherham and Doncaster, while in Barnsley they've stayed open.
In a letter to Rotherham chief executive Sharon Kemp, John says: "It is traumatic for those who have lost loved ones that attendance at funerals and cremations has been restricted in the national fight against Coronavirus but I think people largely accept this is necessary and in line with public health guidance on social distancing.
"However, stopping the bereaved from visiting the graves of those they've loved and lost is different, if this is done in a safe way and in the open air.
"Graveside mourning is a private affair, not a social gathering. It is in the open air and low risk, which is why the new national guidance does not say all cemeteries should be closed; only those burial grounds linked to a crematorium."
He has asked for the closure decision to be reviewed and cemeteries not attached to the crematorium reopened.
He has also written to the Secretaries of State for Health, Local Government and Justice calling on them to clarify the advice being given to local councils.