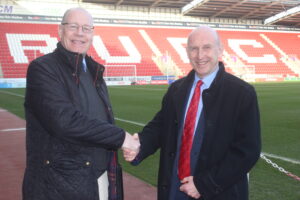 John Healey MP says the long awaited publication of the football white paper is welcome but has called on the government to put words into action.
The government published its paper on football governance today (Thursday 23rd February) and has confirmed it will act on recommendations from the 2021 fan-led review of football to create a regulator.
John has been working with Rotherham United who backed changes, and he wrote to the Culture Secretary calling for the reforms to be included in the Queen's speech in May last year, but the government instead delayed announcing any reforms at the time.
John Healey MP said: "It's good news that the football white paper has finally been published but we need the government to take action, not just provide warm words.
"Ministers should urgently bring forward legislation at the King's speech in the Spring, or take responsibility for any clubs that go under, spiral into decline or which are bought by unsuitable new owners, in the years they've wasted deciding on a regulator.
"Football reform has support across Parliament, and across the country but in the 15 months it's taken the government to finally publish the white paper, Derby County nearly went under, Oldham Athletic were relegated, Chelsea changed hands and Manchester United, Newcastle, Liverpool and Bournemouth were all put up for sale and the Premier League and EFL still haven't reached a deal on finances.
"Fans are desperate for a say on the future of their clubs and the game. We can't afford for reform to be delayed any longer."
The Wentworth and Dearne MP has long recognised that football clubs are more than businesses but also great sources of identity and pride in our towns. John previously called for football to be put on a stable footing, with an independent regulator and a proper say for fans.