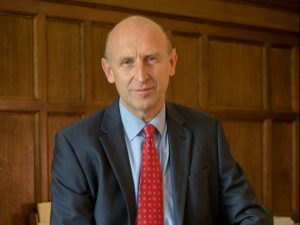 Thousands of people are set to lose their dentist, an MP has warned the government and NHS England.
John Healey is urging Ministers and NHS England to continue funding that has allowed nearly 5,000 patients in the Wentworth & Dearne constituency to see an NHS dentist in the last three years.
The funding is set to run out in April and this would leave dental practices with no choice but to strike off patients, adding to pressure on hospitals.
Some practices have told Mr Healey they have already had to tell patients they cannot book them in for their next check-up.
The MP said: "This special scheme has meant nearly 5,000 patients with no dentist have been able to get dental check-ups and treatment over the last three years.
"It has been invaluable and its continuation is essential.
"If this funding is stopped then our dental practices – who are all fully committed to NHS work – will have to lay off staff and strike off patients."
The Access to General Dental Services funding has meant 4,832 patients who previously had not been to a dentist in years – including children – have been able to get check-ups and treatment. They have been treated at practices across Rotherham in Wath, Swinton, Rawmarsh, Bramley, Thurcroft and Maltby.
The money was awarded in 2018 because the area had fewer people seeing a dentist and a higher level of deprivation.
Mr Healey added: "This scheme has begun to narrow the gaps but it also confirms there is high demand, with practices taking on more new patients than expected.
"These thousands of patients simply won't be able to find another NHS dentist, leaving their oral health to deteriorate again.
"This will leave more people in pain and forced to turn to hospitals for help."
The MP has requested meetings urgently with Richard Barker, NHS England's regional director, and Jo Churchill MP, minister for public health and primary care.
He is also asking people to contact him if they have recently started seeing a dentist again and are worried they may be affected, or if they have found it difficult to see an NHS dentist.
Steve Thompson, chair of Rotherham Local Dental Committee and dentist at Bramley Dental Practice said: "This will come as a blow to practices who form a key part of our local health service, providing routine and preventative dental care as well as screening for oral cancers.
"This vital funding has enabled some 5,000 patients across six local practices to be able to see a dentist, many for the first time in years.
"There couldn't be a worse time to pull the plug on funding. This will only leave many families struggling trying to find care in already challenging times.
"The clock is ticking, and there has been little to no communication on how patients are going to be managed. We urge the authorities to show leadership and find a way to protect dental care in Rotherham."
Stuart Hodgson, a dentist at Rawmarsh Dental Practice, said: "We are deeply concerned about the possible non-renewal of this access funding.
"Rawmarsh is an area of high dental need, and the funding allowed us to provide vital dental care to those in our community who hadn't previously been able to see a dentist.
"Cuts will leave jobs at risk and patients without a dentist.
"At a time like this, when practices are already over-stretched and over-capacity, we need long term thinking to ensure local families can secure the care they need."
Amir Arif, practice principal at Fitzwilliam Street Dental Care in Wath, said: "This funding has let us take on an extra 1,600 patients who had not been seeing a dentist regularly. Unfortunately, there is no way we will be able to keep them on if this funding is stopped.
"I grew up in Rotherham and I always wanted to be an NHS dentist. Over the last couple of years since we took over we've worked really hard and invested heavily in improving the building and adding new technology and equipment. We've expanded by creating a new, modern surgery but if this funding stops it will sit unused and I will have to let a dentist go.
"It makes no sense and will just push patients towards 111 and A&E which will cost the NHS more in the end."