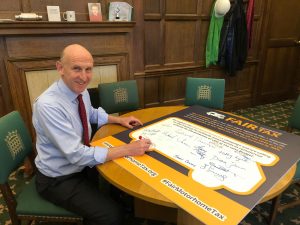 John is supporting the Fair Motorhome Tax campaign.
It follows the closure of Swift Group's factory in Swinton, which employed 45 people.
Swift's managing director has confirmed to John that a change to Vehicle Excise Duty was a significant contributing factor.
The change has led to a 705% hike in registration tax and a significant fall in registrations of 7.3% in September 2019, the month the increase came into effect.
He has signed a pledge board in support of the Fair Motorhome Tax campaign which calls on the Government to reclassify motorhomes in the Budget next month.
He has also written to the Chancellor making the case.