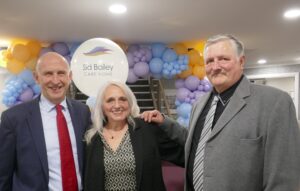 John Healey MP has officially opened the brand new Sid Bailey care home in Brampton with Sid Bailey's son and daughter, Brendan Bailey and Adele Riles.
The 66 bed care home opened its doors on Friday 28th April on the site of the former fire station in the village.
The home features energy saving technology and operates without gas. 80% of the roof is covered in solar panels for electricity generation, and extensive ground source heat technology is used for water heating, underfloor heating and air cooling.
John Healey MP said: "It was an honour to open the new care home alongside Sid Bailey's son and daughter, Brendan and Adele.
"I've been following the progress of the building works after the plans for the care home were approved last year. It's great to see that work is now complete and that a former derelict site has been brought back into use.
"The new care home is a welcome addition to the area and it's good to see it's creating local jobs in and around Brampton."
The care home has created 60 jobs for the local community which come with a fully funded DBS check and full support to aid staff to complete an NCQ qualification.
Home manager Sue Ravenhall said "We are delighted to officially open the Sid Bailey Care Home in Brampton. The home will support every resident who lives here and their families, as well as an asset to the whole community.
"The home is industry leading in every way, from the bespoke individual centred care to the design of the building."
"The brand-new building has been designed to include everything residents need to live a busy and comfortable life, from accessible sensory gardens to spacious en-suite wet rooms, and even a hair salon on site. The home has been thoughtfully and tastefully decorated throughout, so the residents can feel truly at home."
Sid Bailey Care Home is part of the Danforth Care Home Group and also includes amenities such as a cinema, library, coffee shops, sensory garden and an on-site beauty and hair salon. More information about the care home can be found at https://danforthcarehomes.co.uk/sid-bailey