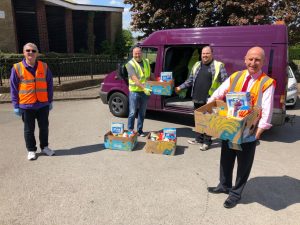 John Healey MP joined Big Local Thurnscoe to help deliver food boxes to vulnerable residents in Thurnscoe.
Big Local, in partnership with Evolution Distribution Yorkshire Ltd, have delivered nearly 70 boxes since the second week of the Covid crisis.
Big Local have also awarded small grants to local groups, including the Rainbow Centre, Station House, St Helen's church, the Salvation Army, Barnsley Alzheimer's and B-friend.
John said: "The Big Local Team, with help from Evolution, are providing a lifeline to vulnerable residents in Thurnscoe by providing them with food and support and linking them up with the help they need to get them through this Covid crisis.
"Like others in our area, they are doing an incredible job and I want to thank them for what they are doing for our community."
Alison Vint, Big Local development worker, said: "Big Local Thurnscoe was able to mobilise support very quickly for vulnerable residents in the form of emergency food deliveries, and we continue to support groups working on the front line with our 'Thurnscoe Relief Fund'.
"Although both of these responses remain active, we are now moving beyond this to look at other ways to support particular groups as we move through this crisis and for this we are grateful to our many community partners that we actively work with.
"This week we have funded 'Activity Packs' sent out to over 80 families in the Dearne via Station House and we are looking at other ideas for older residents and other groups who may not be online.
"We would like to thank MP John Healey for his continued support of the work that we do in Thurnscoe."
Conrad Kirk, director of Evolution, said: "During the Covid -19 lockdown, we were in a position to adapt to local community needs following distribution of a Coronavirus Emergency Newsletter; having been approached by Big Local Thurnscoe we were pleased to offer a food parcel service to families and individuals.
"Our commitment to the communities and businesses we serve is fundamental to our growing success."
A Thurnscoe resident who is receiving a food box each week said: "If it wasn't for the weekly food parcels I would be very hungry as I just don't have enough to live on at the moment. I would like to say thank you very much to Big Local Thurnscoe – they are doing a wonderful job and deserve a lot of credit."