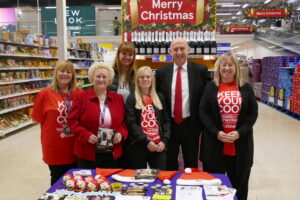 John Healey joined workers at Tesco in Wath-upon-Dearne as they came together to raise awareness of Usdaw's Freedom from Fear campaign.
The Union represents shopworkers and recently revealed in its annual survey that 71% of shopworkers have experienced verbal abuse in the last year with almost half also saying they were threatened by a customer.
John said: "The figures released by USDAW really are shocking. People should be able to go to work without the threat of abuse or threatening behaviour.
"Shopworkers from across South Yorkshire say they've had things thrown at them and been shouted at over things they have no control over.
"With the busy Christmas period approaching it's important we respect our shopworkers who provide an important service. Abuse should not be part of the job."
Usdaw's Freedom From Fear Campaign works to prevent violence, threats and abuse against workers.
Their annual survey of workers also found 5% of shopworkers had been assaulted in the last 12 months and 45% said they were not confident that reporting abuse, threats and violence would make a difference.
You can read more about the campaign here https://www.usdaw.org.uk/freedomfromfear