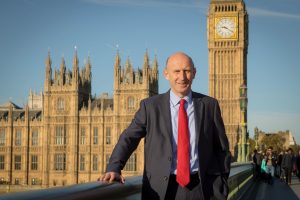 I understand how much people want a resolution to Brexit. After three years of debate and division, we all want to move on and fix the big challenges facing areas like ours from the NHS to schools to wages.
But the Brexit terms set our relations with Europe for a generation. I didn't vote for Boris Johnson's deal on Tuesday night because it's a bad deal. The Government is hiding the risks from people by refusing to publish its own economic impact assessment.
It sells out:
the workplace rights that are the cornerstone of a fair deal for working people, as every major trade union and trade union leader agrees
jobs and our manufacturing industry, so even employers' organisations say it is a 'backward step' and they 'have serious concerns'
the NHS because, on top of the Tories 2012 NHS legislation which opened up our health service to private provider competition, the deal means an open door for American multi-nationals to take over NHS services, drugs and patient data
Northern Ireland and risks breaking up the UK by creating a new border in the Irish Sea and encouraging the nationalists in Scotland to go for another referendum.
We haven't been able to get beyond Brexit so far because the Conservatives in Government haven't been able to secure a good enough deal to get backing from Parliament or from the country.
This week Boris Johnson got the Commons to vote for the first stage of his Brexit deal bill but then pulled it when MPs of all parties rightly said Parliament needed a few extra days to scrutinise over 100 pages of legislation. Jeremy Corbyn offered to work with him to agree a sensible timetable to get the bill through, which I think would be the best way forward at this point.
I'll continue to make the case for Labour's better Brexit deal if the legislation does continue through Parliament – with a relationship with Europe that protects jobs, rights and standards at the heart of a new UK-EU settlement.
If Boris Johnson decides he can't defend his deal and can't get his legislation through Parliament, then Labour will be ready to fight a general election, so everyone can pass judgement not only on the last three years of Tory Brexit chaos but ten years of Tory Government failure on all fronts, from rock-bottom wages and cuts to investment, to the attack on our NHS and public services.